Small Business
Small businesses need a cost-effective security solution that offers robust protection and ease of use. Ugunssiena brings its security expertise to a range of solutions optimized for your unique needs.
Few small businesses have money for complex security solutions and resources to manage them. Yet, in a modern world, even small business needs comprehensive and advanced protections against cyber threats. The best choice for a small business without dedicated security personnel is a simple device that covers all the bases and works out of the box providing:
Affordability — A cost that comfortably fits even on a limited budget
Ease of use — Can be easily set up and deployed, and included management for those who need it
Peace of mind — Provides reliable security with minimal intervention on users side
Do not compromise security for performance
A common problem small businesses face when it comes to deploying robust protections is performance. Most often, vendor bandwidth claims fall short when put to the real-world test. It results in degraded Internet speeds and leads to the reduction of security level or disabling security services altogether, to compensate for the lack of performance.
The Ugunssiena U31 solution provides security without the performance degradation witnessed by users of many other firewall solutions. This allows for small businesses to use full Internet performance and deploy the reliable protection.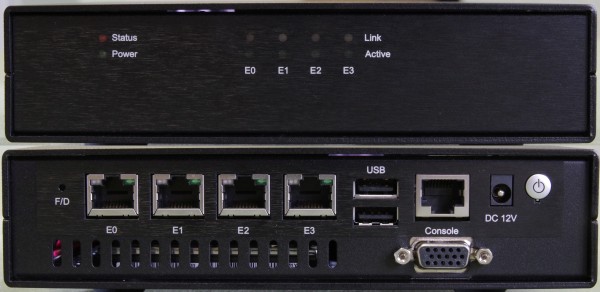 Product overview:
Supports Intel Atom E3825 & E3845 / Celeron J1900 CPU
Memory: 1 x DDR3L(1.35V) 1333 SO-DIMM, up to 8GB
Four Intel I211-AT Gigabit Ethernet interfaces
Independent management console(RJ45)
one 2.5" SATA Hard disk
Feature Detailed Description:
CPU
Intel® Atom™ Processor E3825 (1M Cache, 1.33 GHz, 2C2T)
Intel® Atom™ Processor E3845 (2M Cache, 1.91 GHz, 4C4T)
Intel® Celeron® Processor J1900 (2M Cache, 2.42 GHz, 4C4T)
CPU Board
CAPB-0225VR
Board size: 170 mm x 140 mm
System Memory
1 DIMM socket
Support DDR3L-1333
up to 8GB
VPN speed using SHA-1 hash algorithm and AES256 encryption
Ethernet
4 PCI-E (x1) Gigabit Ethernet port base on Intel I211-AT
Storage Device
1 x SATA interface 2.5" Hard disk
VGA Interface
1 x Internal VGA pin header (2 x 5-pin)
A semi-cutting hole for standard D-Sub 15-pin VGA connector on chassis
PSU
40W, 12V/3.3A power adapter
Front Panel
Ethernet interfaces: Four RJ45 Ethernet connectors.
RS232 interface: RS232 port with RJ45 connector for system console
System LED: Power and Data access.
Ethernet LED
Rear Panel
DC power inlet
F/D Button
2 USB port
1 D-sub port
1 Console port
4 RJ-45 connector for PCI-E (x1) GbE interfaces
Power On/Off Button
Dimension